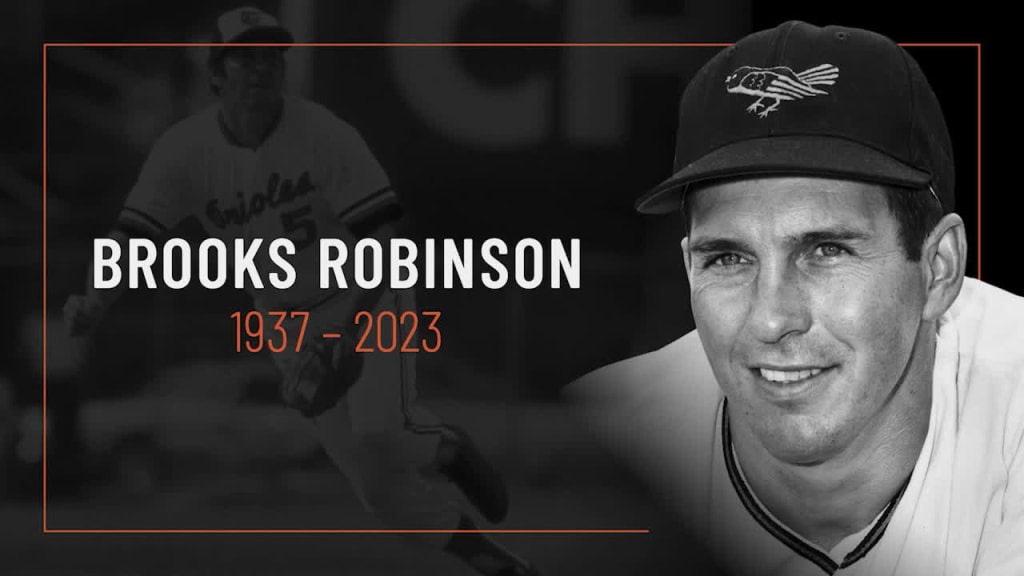 Brooks Robinson died last week. The Hall of Famer who played all 23 years of his professional baseball career with the Baltimore Orioles was 86 years old.
I grew up in Baltimore at the time when "Brooksie" was coming into his own as the best third baseman in the game. He became my boyhood idol.
I bring up the passing of "Mr. Oriole" because it comes at a time when the world truly needs more Brooks Robinsons. Aside from his unparalleled prowess for scooping up ground balls, the "Human Vacuum Cleaner" was also a man of kindness, grace, and decorum. Stated plainly, I cannot recall a time in my life when the world was more devoid of decency and decorum. Consider the following news events:
A Colorado State University football player received death threats from fans and had his family's address and cell phone information published on the internet following a late hit on an opposing player during a game last month.
Journalists in the United States have been the targets of increasing harassment and threats, including a local TV meteorologist reporting on climate change, two New Hampshire radio journalists whose homes were vandalized, and Las Vegas newspaper reporters who received "obscenities, racist tirades and wishes of personal suffering and death."
Donald Trump, never known as a beacon of decorum, continues to berate anyone who dares to disagree with him to the tune of 850 personal insults since 2015 (and counting).
I could mention U.S. Sen. John Fetterman, D-Penn., considering he routinely shows up to work wearing a hoodie, shorts, and sneakers, another break from decorum, albeit a much less abhorrent one. Fetterman's questionable fashion sense ultimately forced the U.S. Senate to institute a formal dress code.
Then again, I find it a bit difficult to take seriously this recent attempt at restoring decorum, considering Fetterman's attire originally drew the ire of more senators than the recent bribery indictments of Sen. Robert Menendez, D-N.J. Seems like Congress needs a moral code more than a dress code.
But enough with the deplorable behavior. Brook Robinson's passing is an opportunity to reflect on all the good the man taught us, to consider what we could be if we tried to act just a bit like Mr. Oriole.
"Brooks exhibited many of the values that we now regret as lost," wrote Doug Wilson in his 2014 biography of Robinson. "As time has gone by, his public persona stands as the role model we would want for our children. The present generation of fans is constantly reminded of the failings of its heroes. Much is written about how we are let down by cheaters and liars, by overpaid bores with little regard for their fans. This makes Brooks Robinson's reputation even more important to revisit."
An oft-repeated quote from sportswriter Gordon Beard in 1977 sums up the legacy: "In New York, they named a candy bar [The Reggie Bar] after Reggie Jackson. Here in Baltimore, we name our children after Brooks Robinson."
Who could blame parents for naming their kid after a man of such integrity? After his sporting goods business fell on hard times in 1976, Robinson paid off the debt with his own money. Even as fans tried to donate funds to him – including one offer of $10,000 – Brooks refused the money.
Nor did Robinson ask the Orioles for a loan, according to the Washington Post's Thomas Boswell. "He didn't shift blame that he had earned less than $1 million in salary, before taxes, in his entire 23-year career. His playing days just missed the bonanza of free agency. In his 10th season he was the American League MVP – and made $35,000."
Subsequently, Brooks became an active member of BAT, the Baseball Assistance Team, whose mission is to provide help of all kinds to players who fall into personal hardship.
More than anything, Brooks Robinson was a kind man. Stories of his perpetual grace and humility abound, like the many hospital visits he made to fans stricken with serious medical conditions. Or the Christmas dinner he and his wife Connie delivered, unannounced, to local gas station employees whom Brooks knew were working on the holiday. Or simply the way he treated everybody – every single person, regardless of their station in life – in his signature friendly manner.
Brooks' own words during the 2011 dedication ceremony of his statue at Oriole Park said it all: "I never considered you fans. I always considered you friends."
I was fortunate to grow up in Baltimore at the same time Brooks Robinson began his Hall of Fame career. No kid could ask for a better role model. As much as I used to imitate Brooksie's batting stance or diving catches when I played ball in the neighborhood – and yes, I really did that – I learned even more from his generous demeanor.
I already miss Brooks Robinson. More importantly, society misses Brooks Robinson and the decency he embodied. Rest in Peace, Mr. Oriole.